Teachers say
I will definitely recommend it to my students interested in taking the exam. Extremely helpful!
Ana, Teacher
Is your spoken English about to be assessed for IELTS?
The thought of facing an English speaking exam can be quite frightening: having your speaking skills assessed by experts is not something that happens often and many students worry that they won't perform at their best on the big day.
At some point during your preparation you've probably wondered 'What if I speak too much?' 'What if I can't answer the question?' 'What if I find myself making a mistake?' And worst of all, 'What if my mind goes completely blank and I can't think of anything to say?'
Now imagine a different situation
You sit down opposite the examiner knowing exactly what to expect during the Speaking test.
You get the exam off to a great start by answering the introductory questions in style.
You make use of strategies that guarantee you carry out the Part 2 question fully AND showcase your English.
And you answer the more challenging Part 3 questions with absolute confidence.
The question is how do you learn all the skills you need to make this possible in time for your Speaking exam?
Well, that's exactly why we've developed our new Speaking course for IELTS students. It's called: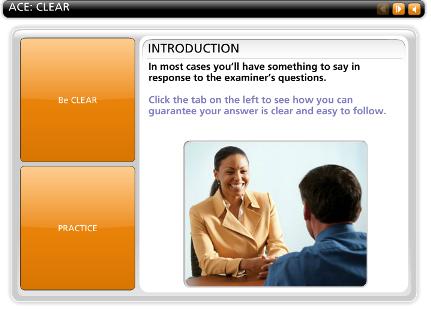 IELTS Speaking: Advanced
'IELTS Speaking: Advanced' is a 10-unit course which covers everything you will need to face the examiner with total confidence. The self-study course is packed with highly-effective speaking strategies, grammar and vocabulary exercises and lots of practice tests to help you prepare thoroughly for the exam.
How IELTS Speaking: Advanced
will help
Let's see what you need to face the Speaking exam with total confidence:
Have a thorough understanding of what's required of you in the Speaking exam.
Know effective strategies that will guarantee you perform at 100%.
Know the IELTS assessment inside out so you know which areas to work on during your preparation.
Learn how to avoid the typical language mistakes made by advanced learners.
Know the functional language you'll need in the exam to speculate, compare and contrast, agree and disagree effectively, use fillers etc.
Have the topic vocabulary to answer the examiner's questions confidently.
Well, that's exactly what 'IELTS Speaking: Advanced' offers you:
Easy-to-remember strategies to make sure you won't be lost for words in the exam.
Practice tests to help you master these strategies.
Recordings of advanced students: use the IELTS assessment criteria to evaluate the speaker's performance, and get a clear understanding of the exam requirements.
Error-correction activities and grammar lessons to help you avoid the language mistakes made at advanced level.
The chance to learn the important functional language you'll need during the exam with our FREE 'Functions Toolkit'.
Topic vocabulary tests to make sure you have the language you need to answer questions fully.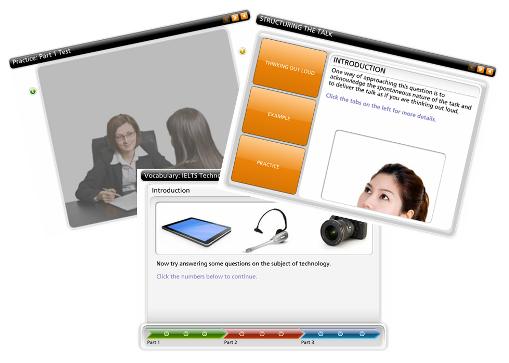 Using 'IELTS Speaking: Advanced' you will:
discover 4 great ways to answer Part 1 and Part 3 questions using the REDS method
learn our secrets to showcasing your use of English and fluency skills throughout the exam
find out how signposting can help you deliver a coherent long turn in Part 2
discover how the ACE method will guarantee you give TOP answers to the Part 3 questions
learn our strategies to deal with common problems such as dealing with mistakes or feeling lost for words.

Login anytime, anywhere!
First, there's nothing to download or install. 'IELTS Speaking: Advanced' is an online course so all you need is a web browser and an Internet connection. (You will need Flash to view the units). With 'IELTS Speaking Advanced' you can fit your Speaking exam preparation around your own busy lifestyle.
Choose the length of your subscription, 13 weeks, 26 weeks or 52 weeks.
Sign up for a username and password account.
Log in from any computer – at work, at home or at the Internet cafe.
Live support!
To help you stay on track with your exam preparation we invite course members to join us and other students on one of our live twice-monthly 'askthetutor' tutorials. (Times are advertised on the course homepage.) Each tutorial will focus on a key Speaking skill covered in IELTS Speaking Advanced and try to answer any questions you may have. And members who can't attend a session can email us their question and we'll try to help.
Are there an special technical requirements?
There's audio throughout the course so you'll need a reasonably good Internet connection and the content is developed using Flash and you'll need Flash Player 7 or later.
Save £££s the longer you need
The costs of an individual student subscription are as follows:
3 months subscription – £28
6 months subscription – £42 (Save £14!)
12 months subscription – £56 (Save £56!)
(Contact us if you're a teacher and would like to purchase multiple subscriptions for 'IELTS Speaking: Advanced').
More user's feedback
"Your new learning tool is very useful for both students and educators. It highlights the typical problems of candidates and gives clear examples, explanations that help students to be more aware of these issues during the preparation. The media tool is attractive and easy to use so working with it was a pleasure."
Kóródi, Hungary

"I think it's fabulous! I'm really impressed with the lesson I've just done…You are doing such a wonderful job to help us with English…THANK YOU!!!"
Lubchik, UK

'It gave me very useful tips about the exam I wasn't thinking about. This helps me alot in my preparation for the exam.'
Ghada, Egypt

"Splendid Speaking is giving me the tools and the confidence to improve my speaking skills, providing explanations and tips on the best approaches to answering a question."
Solange, English language student, Brazil

"What to say more than: absolutely helpful!…Excellent preparation for the speaking part of an exam."
Vucosava N., English Language student, Portugal

"Very useful tasks, complete with appropriate vocabulary!"
Tuula Jantunen, Finland
Get that TOP grade with
IELTS Speaking: Advanced