FAQs >>
What are chunks and how can they help improve my fluency in English?
Knowing the meaning of a word is useful, but knowing how to use it in context is vital. Words aren't used in isolation and will often form part of an expression or fixed set of words. Being able to call on these 'chunks' of vocabulary will help you to improve English fluency skills.
Chunks appear in all sorts of ways: as collocations and idioms, in set phrases such as 'I was wondering if' and 'all the best' and what teachers call 'discourse markers' like 'as I was saying' or 'as far as I know'. In this post we'll look at some common polite expressions.
Chunks like 'See you later' or 'Take a seat' are often used in everyday communication and learning them can help you improve English fluency. How many chunks can you spot in the image below?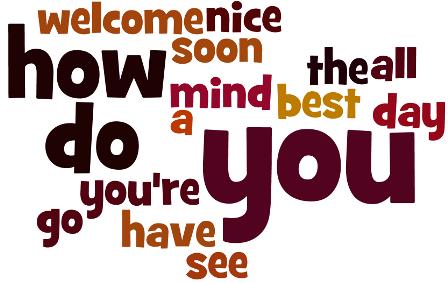 How many did you spot?
'All the best'
'See you soon'
'Mind how you go'
'Have a nice day'
'How do you do?'
'You're welcome'
Listen out for chunks like these and try to use them in your English conversation. Next time we'll look at some other common chunks called discourse markers.